Viewers Wowed By Extravagant Inauguration Outfits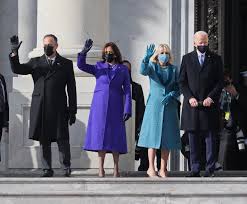 Regardless of your political opinions, there is one thing that most of us agree on; the outfits at the inauguration were a statement. Many favorites, such as the Obamas, the Bidens, Kamala Harris, Bernie Sanders, JLo, and Gaga showed up in extravagant outfits. In honor of this historic event, I've decided to rate the fashion. I also enlisted the help of fellow 8th grader, Hayden Githuku.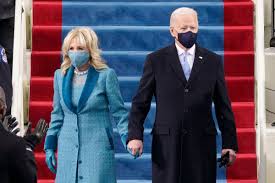 The star of the show, Joe Biden, wore a relatively simple black suit and blue tie, with his signature flag pin. Joe's Wife, Jill, wore a blue dress and jacket, matching her husband's tie. Joe looks plain, but I love how he's coordinated his tie with his wife's beautiful blue outfit. Because of this, I'd give them a 8 out of 10. I wish that our new President had worn something a little different, but Jill looked terrific, her blue outfit perfectly tailored and matching her mask, and she dragged the score up for sure. Hayden agreed that Joe's outfit was nothing special, but she said she liked how Jill's blue symbolised the democratic win.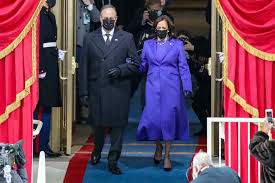 Madam Vice President, Kamala Harris, wore vibrant purple. She looks beautiful, that shade of purple suits her well, and this was overall a great outfit. A few things I didn't like so much were the awkward length of her jacket—I wish it had been a little shorter but I do understand that as Vice President, she may have been more comfortable in a more modest outfit—and the awkward fit—it seemed to be kind of big and poorly tailored, but once again if modesty was her goal than I understand it. Hayden liked the black mask and gloves, and she pointed out how the purple color represents unity because it is the mixing of red (Republican) and blue (Democratic). Overall, she looked lovely and gets 9/10.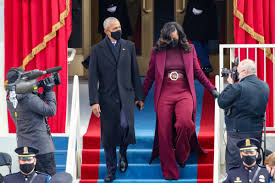 Michelle and Barack Obama showed up together, Michelle wearing a stunning purple pantsuit and Barack in classic black. I absolutely LOVE Michelle's pantsuit. The former First Lady looks so beautiful and professional, and I cannot get over how perfect the color looks on her as well as how perfectly it fits her. Barack's suit, while also a little plain, complements her well and looks nice. These two absolutely look amazing and get 11/10.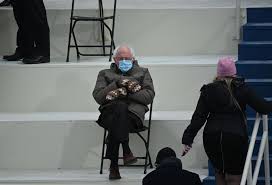 Bernie Sanders looked very cold, yet adorable, in his mittens and was the star of many memes. He used these memes to his advantage, making merch of them and donating 100% of the proceeds to charity. This brilliant idea sold out instantly in all sizes. Hayden also loved his puffer, claiming that his outfit was casual but that he definitely pulled it off. He evidently was a little grumpy about being outside in the freezing weather, but overall 100/10 for being charitable and for his mittens.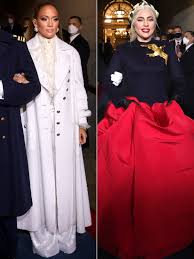 JLo and Gaga both sang for the inauguration. JLo wore a beautiful, pure white outfit and Gaga turned up in a red and black dress with a gold pin. I love the white on JLo; it definitely suits her and she looks fabulous. Hayden commented that the white really suited JLo's skin tone. Overall, I think she earned a 9/10. Gaga was described as 'very Hunger Games-esque' by the media. I like the matching red skirt and red lipstick, and the pop of gold with the metaphorical pin looks good. Overall, not my favorite outfit, but Hayden and I agreed that while most people couldn't, Gaga did pull this outfit off, and we give her a 7.5/10.