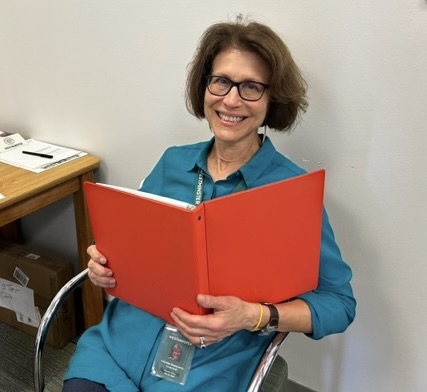 After serving the 2022-2023 school year as a long-term substitute, this year, Christine Montgomery has officially become a full-time English teacher in the Westminster Middle School. 
Montgomery says that at first she struggled to learn the curriculum, but her coworkers couldn't have been more sympathetic. "They were so helpful, and they wanted me to succeed," she says. "They just couldn't have been nicer. They were 50% of why I'm here." This year, instead of constantly coming in contact with unfamiliar information, she has significantly more knowledge. She gained this information through a ten-day onboarding process for teachers. "[We learned] about Westminster's history, how the school does things, what the school's mission is, and what Westminster sees as its role in the community," she says.
Montgomery previously worked at Alamo Heights High School for five years. Her passion for teaching began when she was twenty-five years old after completing a master's program. "I had gotten out of college with a master's degree in education, and having gone through the master's program, I was kind of doing it as an experiment, but I finished it, and I thought it was really cool," she says. From a young age, she loved school and literature deeply. She believes communication is one of the best things about teaching, and she enjoys breaking down units into material she can teach. Montgomery believes seeing student's "lights" go on is one of the best things about teaching.
Outside of education, Montgomery enjoys gardening in her yard and moving her body through physical activities such as pilates and lifting. She is also very fond of reading literature with friends. "I have a book club, and we spend time together even when we're not reading," she says. Her love for literature and teaching pushes her to help students realize that they are academically able and that they only need to discover what they can achieve. Montgomery says, "You are already successful! You just need to give yourself time to find your own path. You guys have amazing gifts, and I think some of you are scared!"