What Will Students Do After Exams?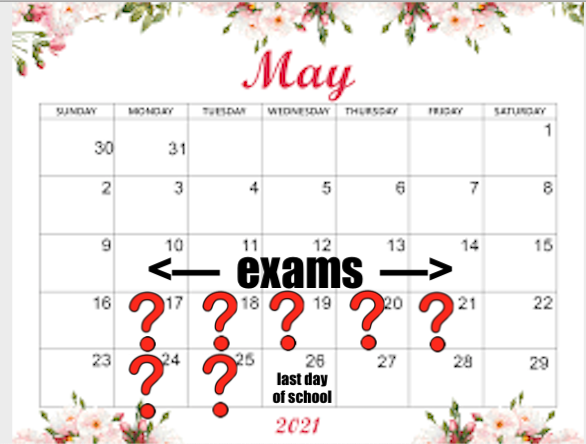 Many Middle School students have been wondering what they will do during the weeks after they finish their exams. Every class has a different plan. Some classes will have end-of-the-year parties, while others will continue to learn and be tested on new material. "You'll still be doing forward work in all of your subjects," says Leslie Ann Little, Assistant MS Head for Academic Programs. "It may be more review, maybe a final short story, in your non-exam classes you'll just keep moving ahead."  Because this year there has been less class time due to COVID, some classes will probably use the extra time to squeeze in another unit.
Students are also asking, why do we have an extra two weeks? Some people suspect that it fills the time where we would have had MayATL. Other students think that it gives time to review exams before going on summer break. Well, both are correct. The primary reason for the two weeks is to review exams so students can learn what they did well and what they need to work on in terms of studying. "We want to make sure that you know how to take an exam," says Little, "and one of the best ways to learn is, you prepare, you take the exam, then you review the exam to figure out what worked and what didn't." 
Originally exams were moved earlier to accommodate for MayATL, but because of the pandemic MayATL will not work out this year. "Hopefully, post-pandemic world, by next year we'll be able to . . . do school in the morning and MayATL in the afternoon [during those two weeks]" says Little. "We knew this year it wouldn't be on the table because we're just not up to doing those kinds of field trips yet, but maybe by next year we'll be able to pull it off." Rising sixth, seventh, and eighth graders have MayATL to look forward to next year. However, students this year should expect to continue to move forward with normal school after exams.