Love Hall Prepares For Expansion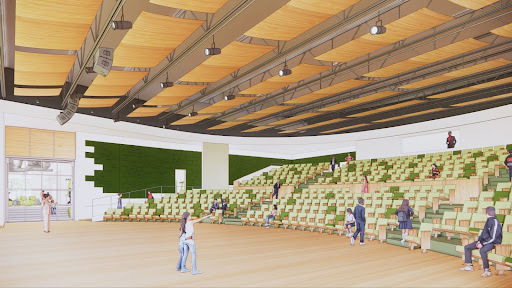 While the Love Hall building has recently upgraded its interior spaces, many more plans are in store for the Lower School building, including a renovation and the addition of a new building. 
The new expansion will add 30,000 square feet to the Lower School and will include three innovation labs and two art labs. The plan is to place the labs adjacent to each other so they can share ideas and resources. Love Hall will also receive an auditorium, an improved library, and a learning resource suite. 
Love Hall's existing "cafetorium" has served as both a food and event space, but with the addition of a proper auditorium, many more events can take place. "For the first time, our lower school students, parents, and teachers are going to have a place where they can have meetings; they can have performances; they can have exhibitions, displays, and teaching space," says Westminster Vice President for Finance and Operations Toni Boyd. 
The library will be expanding to a learning space as well as a library. "We are going to renovate the library to make it more of a learning commons because so much more is happening in the library than just going in and selecting a book," says Boyd. As for the learning resource suite, Boyd explains it has been planned to replace the main administrative offices. "All our faculty, staff, and students will have a one-stop shop to go to so they can exchange ideas." 
While Westminster plans to start mobilizing the equipment during Spring Break, heavy construction isn't scheduled until the summer of '23. "We look forward to being complete in August of 2024," says Boyd. Students can continue attending school since the renovation will take place on the softball field. Softball will continue since the program recently received a new facility, but a place for lacrosse, which also uses the softball field, is currently being worked on. ASK, or After-School Kids, will be displaced since their facility is next to the softball field; luckily, their activities will continue inside Love Hall. 
"The renovation is much overdue, and I am very excited about the way Westminster goes about identifying its needs and its planning," says Boyd.
Lower School Director of Student Life Becky McKnight and some others have been given a sneak peek of the coming renovation. McKnight is excited about the new area and says that Love Hall has been limited by its space. On a recent day in October, McKnight explained that the Hamilton room, Love Hall's cafetorium, had been used for a veterans assembly, orchestra and would soon be used for lunch. "The Hamilton room was used for a veterans assembly in the morning, orchestra in the middle of the morning, and at 11:00, would have to be the lunch room," said McKnight. "We need more space!"
Lower school students are excited to see this change happen. 2nd grader AJ Sauerteig looks forward to his building having a more grown-up vibe. "It's going to be like a mini-middle school," he said. 2nd grader Emerson Fleming was excited to hear that new design-thinking buildings would be added. "I like building," said Fleming.
If all goes well, students and teachers will get more space and Fleming will get to build.