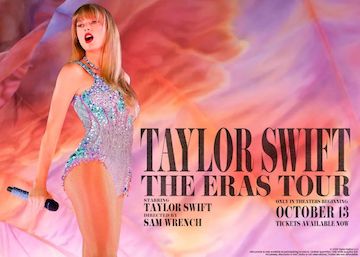 Just when the Taylor Swift Mania couldn't get crazier her highly anticipated Eras Tour Movie dropped last weekend I was one of the first to see it. It lived up to my outlandish expectations.
The fun began the moment you stepped into the theater. Right after they scanned your tickets, they handed you free mini posters and AMC bracelets made specifically for this event. Making and trading bracelets is a popular activity at the Eras Tour. I believe that this was a very thoughtful way to help people remember their experience at the movie. On opening weekend, the theater plays exclusively Taylor Swift music, which could be annoying for some people who may not enjoy her music.
A concert movie that consists of most song performances from the singer's Eras Tour, the film is almost three hours long. The Eras Tour has broken countless records and sold out every show since March of 2023, when it began in Glendale, Arizona. This world tour is unique as it covers Swift's entire discography instead of a singular album, making every performance almost four hours long with forty-two songs on the setlist. October 13th, 2023, was the opening day of Swift's movie, The Eras Tour Film. 
In most theatres, people were dancing and singing throughout the film. While the energy disturbs some people watching the movie, I enjoyed having fun with like-minded people. The entire theatre dancing and singing make the experience of seeing this movie fun and unlike any other. The movie had outstanding production, seamless editing, fun special effects, and a unique credits scene. Watching the movie brought me back to April when I saw the concert. I think the film is a fantastic way to relive going to her show. It is also an excellent opportunity for fans unable to attend the concert to experience it. 
The movie truly reminds you of Swift's flawless showmanship and vocals. Watching the film causes you to notice little things that you may not have seen at the concert, such as microphone designs and jewelry choices. My only complaint is that—unlike other tour movies I've seen—the film exclusively featured videos of her show as opposed to some behind-the-scenes talk of what went into making the tour. 
Overall, I loved the movie and would recommend it to anyone who enjoys her music.