Westminster Laments End of Braves' Season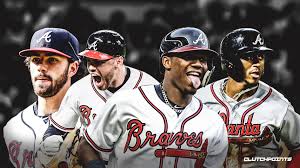 As the weather changes and the leaves begin to change color, students found themselves falling victim to Braves fever. After making it to the National League Championship Series for the first time since 2001, the Braves made headline conversations at school. Westminster students and teachers responded with incredible excitement.  Students were so into the series that often many would walk into school tired after watching a late-night game.
The excitement did not only hit the students, however. Teachers also showed incredible excitement about the Braves' success this year. Their passion was shown by allowing students to occasionally watch the games in class and talk about the postseason as it went on. The Braves went to the National League Championship Series before falling short to the Los Angeles Dodgers in seven games. 
The Braves, led by players such as Freddie Freeman, Ronald Acuña Jr., and Marcell Ozuna, had one of the best lineups in a very long time; however, they were not able to pass the Los Angeles Dodgers. The Braves had won three games and only lost once in the series before losing three straight games and not advancing to the World Series. Mr. DuPriest, Dean in the Middle School, explained that he was "Super disappointed and frustrated,"  DuPriest was not the only one who was annoyed after the loss. Many Westminster community members came to school the next day angry that the Braves could not capitalize when given a chance. But when looking back at the postseason, fans must look at the good, along with the bad.
The Braves beat both the Reds and the Marlins in the first two series of the postseason. In both series, the Braves swept their opponents and did not allow either team to win or get many runs. The pitching, up until the League Championship, was also incredible. Led by starters Max Fried, Ian Anderson, and Kyle Wright, the Braves' pitching was spot-on. Along with the starters, the Braves' bullpen was dominant in the first two series of the postseason, relievers and closers alike, only giving up a total of one run in five games. 
The Braves have proven that they can make the postseason and be competitive with three straight NL East Championships. The question will be whether the Braves will all stay healthy and keep pushing, even when games are close. The Braves always need to keep scoring and playing good defense until the game ends.
Despite falling short this year, The Braves have shown that they have both the talent and hunger to win the World Series in future years. Due to the Braves' young talent, fans can look forward to Ozzie Albies, Dansby Swanson, Mike Soroka, and the rest of the Braves taking over the league and emerging as one of the best teams in baseball.