Wrestling Launches History-Making Season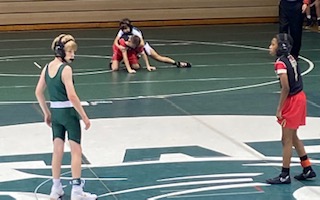 The MAT-CATs made history as they kicked off their new season, the first at Westminster allowing girls to wrestle, with a big win against GAC and Mt. Bethel on Friday, November 12.
The new addition to this year's wrestling season is that girls are also welcome to participate on the team. Boys and girls have the same rules, and girls will wrestle in their weight bracket. Elle Lanier, the pioneer for female middle school wrestling, is very excited for this year's season, and feels as if she is a representative for girls in the wrestling world. "I'm looking forward to learning the wrestling moves and then applying them to competitions, with the advantage of being left-handed on my side as well," says Lanier. "I'm also looking forward to forming new relationships with my teammates, seeing as only a few people know me right now. My big worry is about weight classes. I'm one of, if not the lightest person on the team. This means I have to wrestle people heavier than I am, putting myself at a disadvantage." 
Returning wrestlers have said that they are just as excited as Lanier for the wrestling season. "I am also excited to have a girl on the team knowing that she will influence in future years other girls like her to join the team," says 8th grader Porter Clemons. 
This year will be the same as the last with respect to COVID protocols. "Wrestling rules are definitely not back to "normal." We will continue to implement safety precautions to the best of our ability so that we may maximize student life," Sottnick said, "Last year all wrestlers wore masks at all times; we divided up the team in two different locations (weight room and Gladney Gym) to keep the number of people in a given area lower. The wrestlers also used a type of soap that did not need water after every practice. During events, we also kept numbers inside the gym to a minimum."
The season started on October 19 and will end on January 20. The coaches this season are Michael Issiac and Matt Sottnick.