Westminster Basketball Teams Bring in New Coaches and Players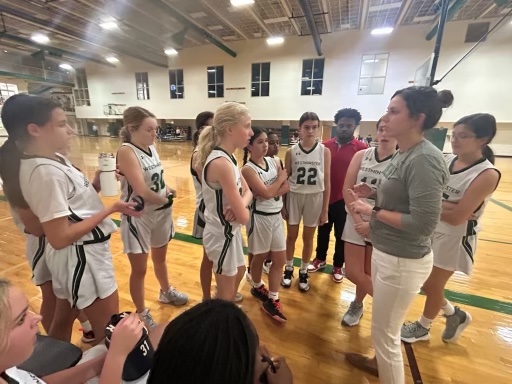 For 7th and 8th-grade students, the basketball season just kicked off a couple of weeks ago. The four different teams played their first games about one month ago and just wrapped up their seventh. The tryouts brought in many new students for the Middle School teams, particularly 7th-grade students. This season also sees new faces on the coaching staff. 
Shannon McDonough, a Spanish teacher in the Middle School, just started her first year coaching on the Girls' White Team. She loves coaching the team. "My experience has been amazing coaching the White Team! The group of girls is so much fun to work with; they are fun, energetic, and work hard every day,"  says McDonough. 
In contrast to McDonough, Gary Jones, the 8th Grade basketball coach, has been with the 8th-grade boys' basketball team for 18 years. Though sometimes it may be difficult to organize the team, Jones enjoys coaching. He also has had a positive experience with the new coaches. "It's been great having them with us," says Jones. " It brings a fresh perspective and a new point of view."  
The basketball program not only brought new coaches but also new students. Tryouts for the teams occurred across three days. The first day focused on team skills and comprehending new information. The second and third days focused on gameplay and basketball technique. 8th grader Elizabeth Quillian said that the tryouts were hard but fun. "It was really stressful because there were so many people," says Quillian. "But it was fun to try out with people I had played last year." The next week team rosters were sent out with the teams' lineups.
Middle School basketball at Westminster contains four different teams: 7th Grade Boys Basketball, Girls Basketball White Team, 8th Grade Boys Basketball, and Girls Basketball Green Team. The boys' teams are divided by grade level, and the girls' teams divide by skill level, Green being the more competitive.  
The two girl's teams occasionally practice together, but even at practices by themselves, the team members enjoy each other's company. Alero Egbe, an 8th grader on the White Team loves the team atmosphere. "Everyone is really friendly and it's easy to get along with everyone," says Egbe. 
Practice for the teams occurs three to four days a week. Team members sometimes have trouble balancing the practice with the homework. "After practice I'm tired," says Egbe. "It gets hard to not ignore your homework when you get home." The practice seems worth it as the four teams have kept a solid score record.